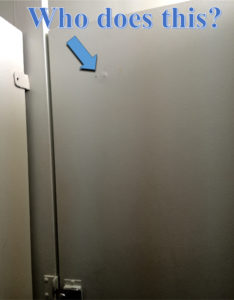 Every time I go, I gotta go.  Every time.
The craft store; one of the greatest places on earth.  Where creativity is fed with shiny tchotchkes awaiting to be applied by a gun spewing hot glue.  Scalding, liquid glue that always leaves my fingers blistered and calloused no matter how carefully I work.  But like childbirth, I forget and move on to the next project.  After all, scorching ones fingers is an accepted occupational hazard by us crafters.
I have the same goal every time I make the trip to the craft store- in and out in 20 minutes with a plastic bag full of creative love swinging from my wrist as I walk through the parking lot back to my car.  In and out- easy breezy.
But upon entrance, my bowels have other plans for me.  Once the electronic door slides open, the craft store scent awakens my digestive system from its dormant state.  My intestines begin to communicate and come to the consensus that they'd like me to see more than aisles full of colorful card stock and acrylic paint…more than ribbon spools of varying widths and tiny bags of gemstones that can add bling to anything.  They'd like me to see the craft store commode.  Again.
Within minutes my stomach turns, pulsates, grumbles and my stool shouts…"We're at the craft store again and we want out!"
Of course I know where the bathroom is.  It's in the opposite corner of the store, through the employee break room, past the table where a long-haired lady in a burgundy vest is eating her Ramen.  With butt cheeks clenched, I waddle to the john in a nervous sweat and flick on the fluorescent light.  Why does a store that sells such pretty things have a bathroom the same caliber as a gas station?  Can't they take some faux flowers from aisle ten and place a nice bouquet right next to the toilet cleaner that is obviously never used?  And who on earth ripped the purse hook off the back of the door?  If someone needed a hook, they could have gone to aisle six where there are several available for purchase.
With no hook to hang my purse, and a tiled floor layered with soot, I have no other choice than to hang my purse around my neck.  It is big and bulky but I am grateful that it blocks my view from what is about to happen down below.  I grab onto the handicap rail for dear life, then squat, hover and explode.  Toilet water ricochets onto my private parts.  A sense of sweet relief and shame overcomes me at the same time.
Once the deed is done, I woefully wipe and flush.  And then flush again to free the streaks.  Standing over the sink, I face the girl in the mirror donning a sweaty forehead and bulky purse hanging from her neck and ask her, "Why?  I thought you were stronger than this."
Since there is no air freshener, I must leave the bathroom in a less than favorable condition.  I sigh and open the door…it's now time to face the employee break room music.  I walk through slowly, as if nothing had happened.  The lady in the burgundy vest is disposing of her Ramen and from the sneer she gives me, I assume she cut her meal short because she heard what just went down in the adjacent can.
Apparently, the urge to defecate when visiting a bookstore is a phenomenon,  ( https://en.wikipedia.org/wiki/Mariko_Aoki_phenomenon ), but I can't seem to find anything on record about crappin' at the craft store.  So I leave with this…need not be ashamed if you too share the urgency when surrounded by baubles that move your bowels.  Today, right now, I'm declaring CATCS an official phenomenon.  While only few people (or even just one person) may experience this event, s##t definitely happens.